Highland Baptist History (continued)
The Lord sent in people who had a mind to work and build the House of God. The first meeting was probably held in the new building the last of August, 1942. Reverend T.T. Lewis was called to be the first pastor of the church and was there five months. Mr. Lewis began preaching in the church by using a large oil drum for a pulpit stand until one was build. Ernest Warwick was called and pastored for six months. The Lord had called Mr. Spencer to preach about five years before, but he was trying to do everything but preach. He was the first deacon and also the first Sunday School Superintendent of Highland Church. After he became obedient to the call God had given him, the church called him as their pastor and he was ordained July 4, 1943. He pastored for five years until God called from House Mountain Church. He went there as their pastor and after three years at House Mountain Church, Highland called again and he pastored for another three years.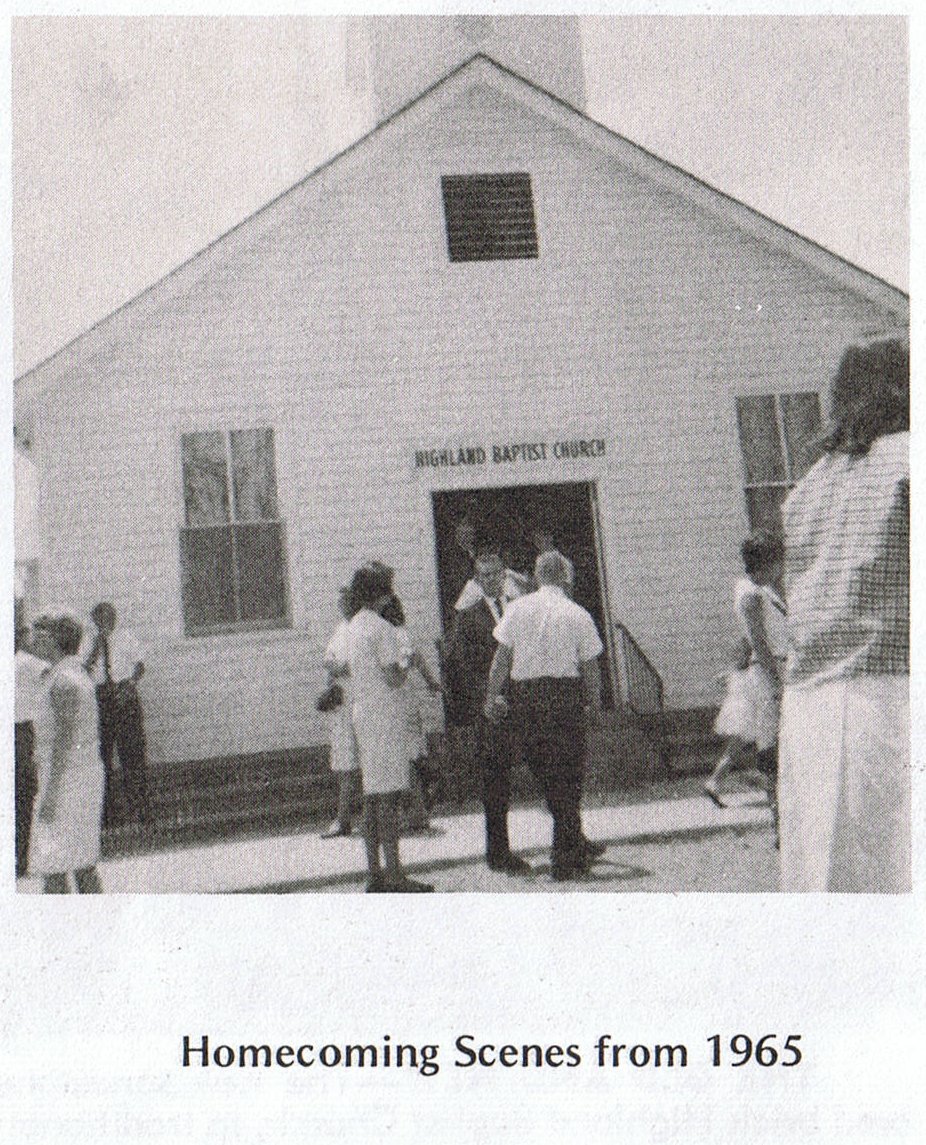 There has been many a problem and many hills to climb and many valleys, but God has been with the church through them all. And the mountain tops have been so wonderful, you forget the valleys and press on to the mark of the High calling in our blessed Lord and Savior Jesus Christ who is the head of the church and also knowing our labor is not in vain in the Lord, I Chronicles 28:20, And David said to Solomon his son, be strong and of good courage and do it; fear not nor be dismayed; for the Lord God even my God will be with thee, he will not fail thee, nor forsake thee, until thou hast finished all work for the service of the house of the Lord.
Philippians 1:6 Being confident of this very thing that he which hath begun a good work in you will perform it until the day of Jesus Christ. Ephesians 5:27, That he might present it to himself a glorious church not having spot or wrinkle, or any such thing, but that it should be holy and without blemish. Revelation 14:13, And I heard a voice from heaven saying unto me, Write, Blessed are the dead which die in the Lord from henceforth: Yea, saith the Spirit, that they may rest from their labours, and their works do follow them.
On Sunday, December 10, 1967, the members of Highland Baptist Church, dedicated the brand new Church building to service for Jesus Christ. See picture below of old and new Church buildings. The article was published in the Knoxville News Sentinel on Saturday, December 9th, 1967.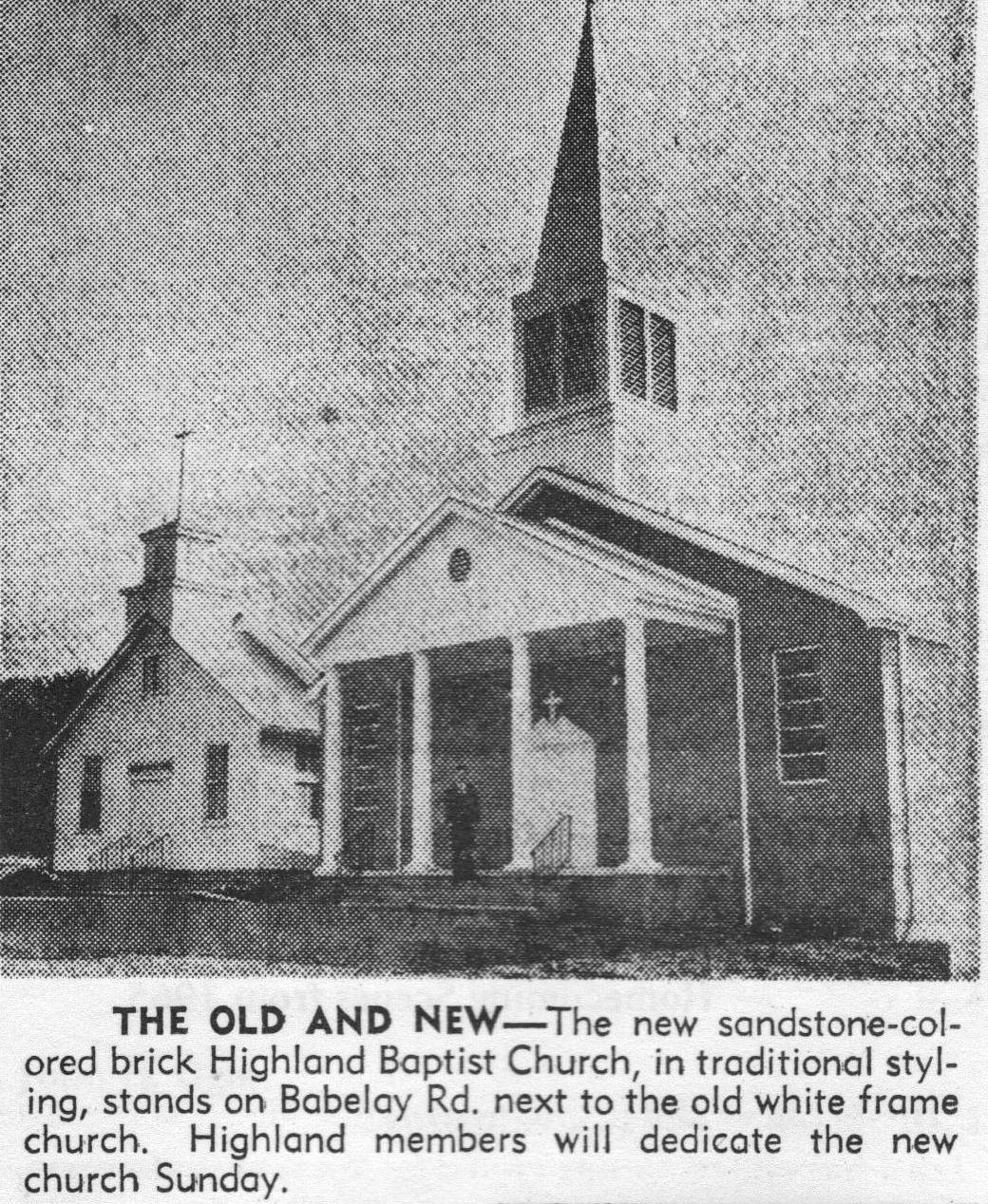 Highland Church 2007 In the history of Highland Baptist, the Lord has blessed our church more than could ever be numbered. A new fellowship building was built in 1976. The Lord made a way that we could pay off the church loan two or three years later.
On June 3, 2009 the members of Highland voted to remove from the Southern Baptist Convention and Midland Association of Baptist and become an independent Baptist Church, not associated with any governing body and answering only to the Lord.
In 2019 under the leadership and vision of our Pastor, Dr. Byron Chesney, the Lord allowed us to build a state of the art Prophet's Chamber in the basement of the Church in order to bless our missionaries and traveling ministers and their families. Also under Pastor Byron's leadership we have taken on numerous missionaries that we support monthly and we have seen how God has richly blessed us through our missions support. Pastor Byron also started our world-wide-ministries through online sermons and streaming our services live over Facebook, greatly advancing our reach throughout the world. In 2019 Pastor Byron began a radio ministry which reached thousands of listeners every day.
Many other things have been accomplished for the Lord and we have learned that all things do work together for good to them that love God. We just thank the Lord for what He has done.
The greatest thing that we rejoice about is the lives that the Lord has added to our church. We feel that every person was sent our way of the Lord Jesus Christ. We are proud of our past, because we can look back and see that Christ was always there to help us. By looking back and seeing what God has done we can look to the future and go with assurance that Christ will never leave us or forsake us.
Thank you Jesus for loving us, and not giving up on us when everyone else had.
Record of Ministers

| Minister | Start Date | End Date |
| --- | --- | --- |
| Rev. T. T. Lewis | Sept. 10, 1942 | Dec. 26, 1942 |
| Rev. Ernest L. Warwick | Feb. 7, 1943 | June 17, 1943 |
| Rev. J. Edward Spencer | June 24, 1943 | July 30, 1948 |
| Rev. Fred M. Harbin | Sept. 2, 1948 | Dec. 2, 1948 |
| Rev. Bruce Dozier | Jan. 20, 1949 | Jan. 19, 1950 |
| Rev. J. Edward Spencer | Jan, 19, 1950 | May 7, 1953 |
| Rev. James Seymour | Oct. 1, 1953 | May 6, 1954 |
| Rev. John H. Ogle | Sept. 2, 1954 | Mar. 16, 1958 |
| Rev. Ruble Thompson | Apr. 20, 1958 | Feb. 28, 1960 |
| Rev. W. C. Cardwell | June 26, 1960 | June 27, 1965 |
| Rev. Dewey Raley Jr. | Nov. 7, 1965 | Sept. 26, 1971 |
| Rev. Ralph Clevenger | Nov. 11, 1972 | Oct. 28, 1973 |
| Rev. Henry C. Ruth, II | Dec. 16, 1973 | Sept. 3, 1975 |
| Rev. Charles R. Lynch | Nov. 2, 1975 | Nov. 10, 1985 |
| Rev. Jerry Copeland | Jan. 26, 1986 | May 14, 2006 |
| Rev. Wesley Troutt | Feb. 25, 2007 | Aug. 19, 2007 |
| Rev. David Hutchison | Nov. 18, 2007 | July 5, 2011 |
| Dr. Byron Chesney | Aug. 17, 2011 | Aug. 25, 2019 |
| Rev. Kevin Roberts | July 19, 2020 | Present |